Welcome to the

Wiki!
The wiki about War of the Monsters that anyone can edit.
80 articles since March 2009. (all pages)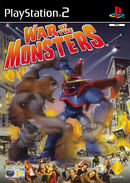 War of the Monsters is a 3D fighting game for the PlayStation 2 developed by Incognito Entertainment and published by Sony Computer Entertainment. The game was released on January 14, 2003 in North America and April 17, 2003 in Europe. It was later released in Japan on March 25, 2004.
The game is set in the aftermath of an alien invasion of Earth where their hazardous fuels have spawned giant monsters that battle one another in city environments. The game pays homage to Kaiju and 1950s Science fiction films. Read More...
September 3, 2013
Gaming Magazines page up with scans from Electronic Gaming Monthly, Official US Playstation Magazine, PSM: 100% Independent Playstation Magazine, Video Games Underground and Tips & Tricks.
March 14, 2013
New wiki background, less busy and easier on the eyes then the last one. Minor edits to the articles like grammar fixes and such. FanFic section is up and running, check it out. Tojoro's got some big stuff ahead, stay tuned!
Photograph and post promotional items.

Contacting the developers for their approval and help. Anything else we can add in the name of MONSTERS!!
Featured Blog Post: Tojoro
Plain and simple, I am a child of the 70's, born in '67...I watched Creature Double Feature on Saturday afternoons, I read Famous Monsters magazine, built the models, bought the bubblegum cards and the beat goes on. I was one of the lucky ducks that got to see the infamous "Force Five" cartoons each weekday after school. (These were the cartoons made by Toei Animation that were repackaged by Jim Terry for US consumption). These mid 70's Super-Robot Anime are what our buddy V is a direct descendant of. Read More...
Community content is available under
CC-BY-SA
unless otherwise noted.